Accident Types
This Litigation Has Concluded – MLG is Not Accepting New Cases
This litigation has concluded and we are proud to report that our clients' claims have been successfully resolved. The amounts of all individual client recoveries are confidential, both by settlement agreement and by attorney-client privilege. MLG is no longer accepting cases involving this product.
Cycling accidents occur in many different situations and for many different reasons. For purposes of determining liability for injuries sustained in a cycling accident, we use five distinct categories to help shape our preliminary investigation of an accident and who might be at fault for causing the accident:
Accidents Involving a Cyclist and a Vehicle

Accidents involving a cyclist and motor vehicle lead to serious injury and death. Over the last several years, the average number of accidents involving a cyclist and a motor vehicle in the United States is approximately 50,000 per year. Of those, the average number of cyclist deaths is approximately 700, hospital admissions average 27,000 and head injuries average 5,500 per year. While these numbers may seem small in relation to the U.S. population of about 320 million people, if a collision with a motor vehicle befalls you or a loved one, that low rate of accident occurrences will not matter.
Whenever Possible - Collect Information
Many collisions involving a cyclist go unreported. However, if you are or have been involved in a collision - particularly with a motor vehicle or as a result of a dangerous or defective road condition, a formal police report of the accident should be made to protect your rights. Always obtain the Identification Number for the Police Report if it is available at the scene.
Beyond the police report, if you are (or someone with you is) able to do so under the circumstances, try to take photos of your injuries, the scene, vehicle(s) - especially the one involved in the collision and where it came to a stop, your bicycle, the place of impact, where you and your bicycle came to rest, people at the scene and any insurance cards or available insurance paperwork. Try to collect try as much information about the accident as possible including the names (and vehicle plate numbers) and contact information for:
the driver whose vehicle collided with you;
the driver's insurance company and policy number (if possible, take a photo of the insurance card)
passengers in that vehicle;
people (both drivers and pedestrians) who may have witnessed the collision;
people who may have come to your aid;
other cyclists who may have been with you at the time of the collision;
first responders who may have treated you; and
police officers who may be on the scene.
It is also helpful to record the time of day, the lighting and visibility conditions, the weather, the status of any traffic control signals or stop signs and any other factual or circumstantial information concerning the collision, conditions and scene.
Accident Tip:
If writing is not an option, use your phone as a recording device (call your voice mail and leave a message) or email the info to yourself.
Read more about What to Do in Case of an Accident.
Accidents Involving 2 or More Cyclists
Accidents involving 2 or more cyclists almost always occur among riders who are in a group ride. Whether the ride is a charity ride, weekly group ride among recreational or competitive cyclists or simply a casual ride among friends, injuries resulting from such accidents can be serious. Depending upon the severity of injuries to the rider(s) and their bicycles, accidents involving 2 or more cyclists may lead to insurance claims or litigation.
Accidents During a Bike or Multisport Race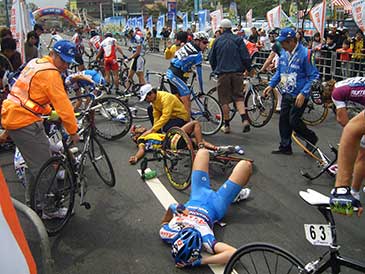 With the added speed and bike handling skills that are involved, accidents that occur during a bike or multisport (triathlon, duathlon, aqua bike) race can lead to serious injury. Complicating general issues concerning liability for such accidents and the resulting injuries are waivers, releases and other documents signed by race participants, as well as certain legal doctrines (assumption of the risk) that may apply. Moreover, such accidents can involve dangerous road conditions, safety issues concerning the race course and its marshalling and the conduct of other racers. If the race is "sanctioned" by USA Cycling or USA Triathlon, that may add another layer of complication to your situation.
Accidents Involving Dangerous Road Surfaces or Conditions

Dangerous road conditions can pose special dangers to cyclists. Uneven surfaces, potholes, debris, and presumably repaired surfaces, can each cause a cycling accident that injures one or more cyclists. Riders must be extra vigilant when riding on unfamiliar roads as road conditions can change quickly and pose sudden and unexpected dangers. Accidents due to unsafe road conditions often present special legal issues concerning liability. These include the extent to which governmental immunity may apply, the timing and process of bringing claims and the degree of culpability that must be shown to obtain a recovery.
Accidents Resulting From Defective Bicycles or Bicycle Components

Accidents and injuries caused by a defective bicycle or its components can give rise to a product liability claim. Such claims are generally governed by the product liability and warranty laws of the state where the bicycle was purchased but other considerations may implicate the laws of the state where the accident occurred (if different from the state of purchase) or where the defective bicycle or component was manufactured. Recalls of bicycles and components are often reported by the Consumer Product Safety Commission http://www.cpsc.gov/en/Recalls/ and by Bicycle Retailer® at http://www.bicycleretailer.com/recalls-0.
Injuries That Are the Result of an Intentional Act or Conduct
Sometimes cyclists are injured as a result of the intentional conduct of others. Here, the conduct is beyond the realm of an "accident" but rather involves deliberate conduct that results in injury to the cyclist. Examples include:
throwing an object at a cyclist or into his/her pathway that knocks him/her down or causes a loss of control resulting in a crash;
intentionally hitting or grazing a cyclist with a vehicle resulting in a crash;
intentionally cutting-off a cyclist or veering into his/her pathway causing a crash.
Such acts or conduct often result in criminal charges and penalties. A few years ago an experienced female cyclist was approached from behind by a motorcyclist who proceeded to drive-up along side her and slap her, knocking her to the pavement. Though she sustained several cuts and bruises (but no broken bones), she was able to remount her bicycle, obtain the license plate of the motorcycle and report the assault to the police. The motorcyclist was arrested, charged and sentenced.
This Litigation Has Concluded – MLG is Not Accepting New Cases
This litigation has concluded and we are proud to report that our clients' claims have been successfully resolved. The amounts of all individual client recoveries are confidential, both by settlement agreement and by attorney-client privilege. MLG is no longer accepting cases involving this product.