Roundup® Health Risks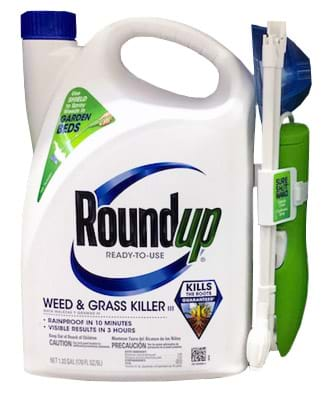 A March 2015 report published by the World Health Organization identified Roundup's® active ingredient, glyphosate, as "probably carcinogenic to humans." Glyphosate is the active herbicide in Roundup®, a weed killer invented by Monsanto and brought to the market in the early 1970's. In July 2017, glyphosate was added to California's list of chemicals known to cause cancer under Proposition 65.
The genetic modification of crops has produced crops that are resistant to glyphosate, known as "Roundup® ready" crops. Glyphosate can be applied to Roundup® ready crops so no damage is done to crop plants while the weeds around them are killed. On average, 93% of US corn, soybean and cottonseed crops were genetically modified in 2017. Approximately 300 million pounds of glyphosate are applied to US crops each year. Glyphosate residue can be found virtually throughout our food chain. Roundup is also prevalent on golf courses, along roads and highways and in yards and gardens in neighborhoods across the US.
Glyphosate and Cancer – According to a recent scientific study, the risk of non–Hodgkin lymphoma (NHL) was found to increase by 41% in individuals exposed to glyphosate. Other cancers of the blood are also believed to be related to glyphosate exposure. Consistent with the exponential rise in the rate of glyphosate use over recent years is a corresponding rise in the number of individuals developing Non–Hodgkin's Lymphoma and Leukemia.
High–Risk Occupation Groups – Occupations that typically face regular high levels of glyphosate exposure include:
Groundskeepers
Landscapers
Greenskeepers
Professional Lawn Maintenance Workers
Agricultural workers
Highway workers
Greenhouse and Garden Center Workers
Tree and Plant Nursery Workers
If you, or a loved one, has had regular and significant exposure to Roundup® through either occupation or place of residence and have developed Non–Hodgkin Lymphoma or Leukemia, please fill out the above form so you can protect your rights and we can learn more about your potential case.